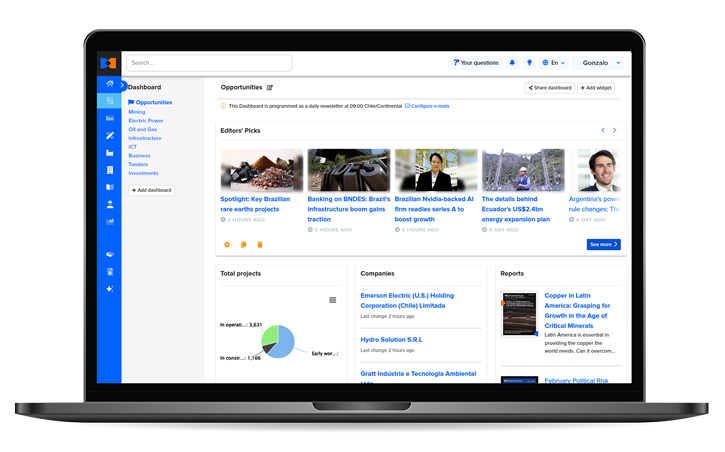 We are Latin America's leading business intelligence platform
We've been in the market for 27 years, generating information and data with on-the-ground experts so that global and local companies can make the best business decisions.
They Trust Us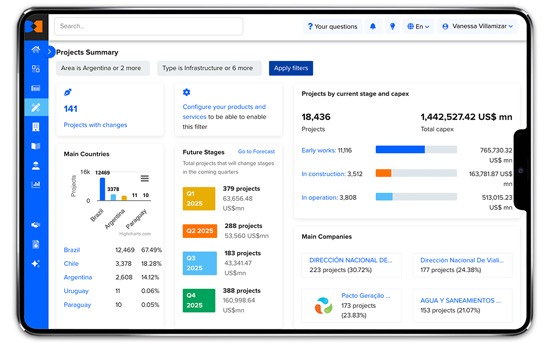 Reliable and complete data to make smart business decisions
We keep you up to date with the latest market trends to help you achieve your company's goals.
Learn about the tools that will enable you to find key information
Exclusive and up-to-date information daily
Our team of expert editors relies on artificial intelligence tools to collect data that will help you make better business decisions.
Project profiles
Identify business opportunities and learn about the progress of major projects by country and industry.
People profiles
Access contact details of executives from the most important companies and projects in the region.
Company profiles
Understand the structure of key companies for your business and track their project activity in the region.
Clients
Learn what other local and global companies benefiting from our service have to say. Subscribing to BNamericas helps them grow their business!
"The mix of industry news, project info and reports produces interesting business opportunities in the main countries of the growing region & economy and to be up to date with the events."
James Lee Stancampiano -
Head of Power Generation Chile & Argentina.
"BNamericas has become my source for information and news to support decisions and plans."
Jaime Soto -
Director of Sales and Business Development Komatsu
"The team at BNAmericas is always available to answer any of my questions pertaining to their published reports. Further, the platform is easy to navigate and very user friendly."
Jim Collins -
Senior Director of Energy Markets at Microsoft
"At a corporate level, SMBC has come to depend on BNamericas as it is a valuable resource to which to turn for daily intelligence information and monitoring of projects in the region."
Carl Adams -
Executive Officer and Deputy Head of the Americas at SMBC
"We're pleased to use BNamericas' services and count on their valuable information to complement our environment monitoring and business intelligence."
Beatriz Elena López Valencia -
Strategy and Risk Specialist at ISA
"I've been using the BNamericas tool for a couple of years and have found it to be extremely useful and efficient in comprehensively aggregating the most relevant industry news under one roof."
Carlos Barrera -
CEO Atlas Renewable Energy
"We have been subscribers for the last three years. We use the projects database extensively and found it very useful. We also value the interactions with the BNamericas team in terms of their intimate knowledge of the markets in region."
Mark Wainwright -
Managing Director - Natural Resources at Turner & Townsend